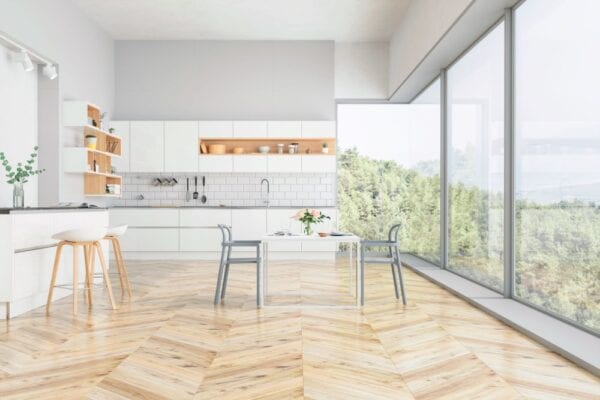 Do you love the high walls and ceilings in your home for the spacious feeling and beautiful natural light opportunities? High walls and ceilings allow a small room to feel larger and help the occupants feel less confined.  The challenge for many homeowners is how to decorate these high spaces and what colors to use. For others, they have questions on ceiling finishes and window treatments.  Your walls and ceilings should be looked at as an amenity and not a disadvantage.  Read on to see how to make the most of your high walls and ceilings. Some would love to have your dilemma!
Darker colors will read more dramatic with height: An advantage of having high ceilings is the ability to use dark colors without closing in the room entirely. Often time's living spaces would like to feel more intimate, and by adding a dark color as an accent wall it can bring a more human scale to the room. For high ceilings, consider painting with a darker color and see how your room will instantly become more intimate and dramatic.
Add windows to bring in light: The luxury of having high walls and ceilings is wonderful if natural light can pour into the space. Clerestory windows are high above the floor and let light into lower living areas. If you don't have clerestory windows, consider having them installed. For those that do – keep these windows clean with specialty window cleaning extension poles, to reach the windows.
Ceiling finishes can be decorative: A gypsum board ceiling is the normal ceiling finish for high ceilings, but how about adding unique ceiling finishes? For a rustic feel, exposed timber beams or railroad ties add color, dimension, and texture. Add texture with faux finishes like plaster, joint compound, or clay.  These finishes can be painted after they dry to leave an artistic texture that is one of a kind to your home.
Ceiling panels: There are several ceiling manufacturers that sell ceiling paneling. Similar to floor and wall paneling, ceiling panels are easy to install and can change the feel of a room.  Choose from wood, metal, to customized mural painted panels. The options are limitless. Get inspiration from home décor magazines and online magazines. Interior designer sites are a good place to get ideas for your own ceilings.
Make the most of height with wall art: Many think that you can only use human height proportions to display artwork on a wall. This isn't true. Take advantage of wall height and hang wall art collections or one or two large pieces of artwork to add visual interest to the space.  If your wall has a geometric interest, like it lies adjacent to a sloping ceiling, play up the architecture. Arrange wall art to mimic the slope of the ceiling down the adjacent wall!
Window coverings on high walls: Windows on high walls can range from picturesque 'window walls' that can consume the entire wall, or they can be confined to sliding patio doors and standard height windows. Determine how you'd like to adorn the windows in your space. If you have killer views and no one can see in, you may prefer to leave windows bare.  If you need the option of privacy than use window treatments that fits your decorative style.
High ceilings and walls are a great way to express your home's individual style. Change your entire space with the addition of color and windows and see how your décor dilemma is now a welcomed asset. With new finishes for ceilings available on the market every day, use your inspiration sources to get your home looking like the pages of your favorite magazine!