Updated: Sep 15, 2022 9:05 pm
Warzone 2 was officially revealed today on 'Call Of Duty Next' at 1PM ET and will launch on November 16th, 2022. Along with Warzone 2.0, Call Of Duty covered additional details pertaining to Warzone 2 Mobile and Modern Warfare 2 Multiplayer.
There was a lot to take in for the Call Of Duty Next Event. But arguably the biggest announcement many fans were waiting for, was the release of the new map set to come in the next Warzone Battle Royale experience.
For those that currently play Warzone, Caldera was a disappointment in comparison to what fans formerly had with Verdansk. And the introduction of a new map couldn't have come at a better time.
As indicated above, the new Warzone 2 map will be called 'Al Mazrah' and is decorated with a variety of new Point Of Interest (POI) locations.
Here's a look at the full list of all the POIs available on the new map.
READ NOW: Call Of Duty Warzone 2 predicted release date and latest news.
Warzone 2 Map: Full List Of New POIs
Per the Twitter post from above, fans can expect there to be 18 POIs on the new map.
Down below you can find the entire list of new locations we can expect to battle in come the release of Warzone 2: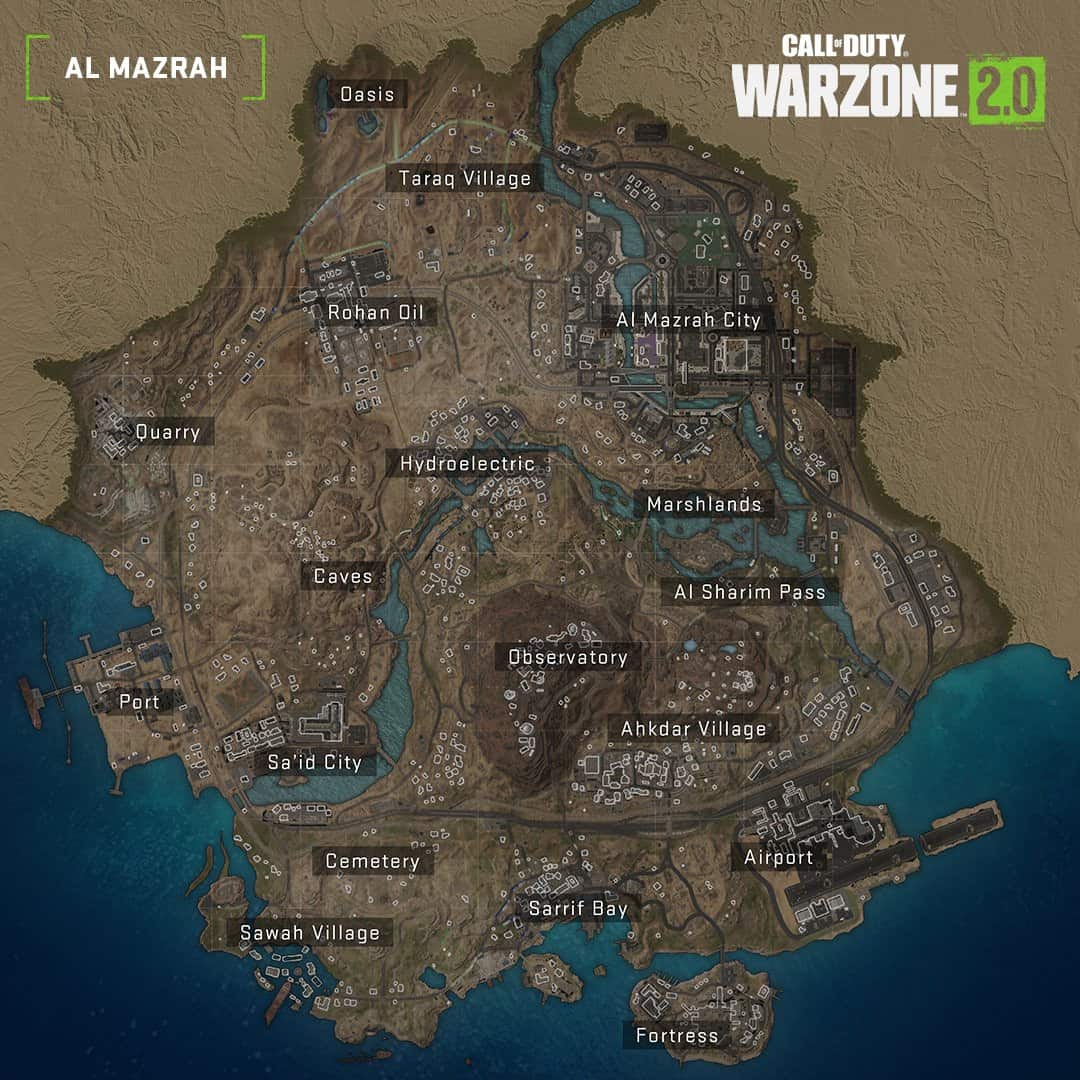 New Points Of Interest In Warzone 2
Airport
Oasis
Quarry
Caves
Observatory
Taraq Village (formerly known as Wartorn)
Rohan Oil (formerly known as Oilfield)
Al Mazrah City (formerly known as Modern City)
Hydroelectric (formerly known as Dam)
Marshlands (formerly known as Marshes)
Port (formerly known as Harbour)
Sa'id City (formerly known as Sira)
Al Sharim Pass (formerly known as Mountain Town)
Cemetery (formerly known as Graveyard)
Abkdar Village (formerly known as Oldtown)
Sawah Village (formerly known as Shipwreck)
Sarrif Bay (formerly known as Fishtown)
Fortress (formerly known as Fort)
New Features On Warzone 2 Map
Call of Duty Next reviewed a lot of key add-ins for Warzone 2.0. Here are the top takeaways they revealed:
Top Features:
Tank Vehicles
Swimming
New decoy mines and water mines
Massive Helicopters with three doors that can fit whole squads
Crates and chests that will have grenades amongst other new items
The New Circle:
The Circle will now split into three towards the ends of games, creating micro battles.
Upon splitting, the three circles will then slowly merge back into one for one final fight.
Strongholds:
There will be new AI-based Stronghold spots to get rewards and special items for the game.
BUY NOW: Alienware AW2720HF 27″ IPS Gaming Monitor – Was $429 now $382
---